Mobile Technology
Tablet computers represent the fastest growing mobile device segment in history, outpacing smartphones, cell phones, MP3 players and e-readers (Huberty, et. al., 2011).  In recent years tablets have become less distinct from mobile phones as the latter grow larger in size.  Many people now carry around a mobile device for reading and interacting with the web.  Some now carry multuple devices, including a laptop, using each when appropriate.  Whether mobile devices such as tablets and smartphones replace laptop and desktop computers or compliment them is yet to be determined.      
Creating Instructional Video
There are a number of apps available for mobile devices which enable the creation of videos by either recording using the devices' webcam or capturing the contents on the screen during the recording (thereby creating a screencast).  Adobe Voice, Educreations and Screenchomp are popular mobile screen recording apps for iOS.   If using an Android device you can try Rec or Mirror Beta. 
Using Mobile Devices in Classroom
Faculty may choose to have learners use mobile devices in class to access information or do informal research.  Mobile devices may also be used for anonymous polling or feedback using applications like Socrative which requires a login or Polls.io for quick polls without any account setup.  
Faculty are using mobile devices to control their presentation media with VGA adapers and wirelessly through Apple TV, Chromecast or the Microsoft Wireless Display Adapter.
Some systems enable a learner to take control of the projector and share the contents of their mobile device. This may be useful for sharing group work or conducting presentations in class.  Provided you have access to a projector which supports a HDMI input, you can use these devices to display the contents of your mobile device on the projector, roaming around the classroom while maintaining control of the display.
Mobile Devices in Fieldwork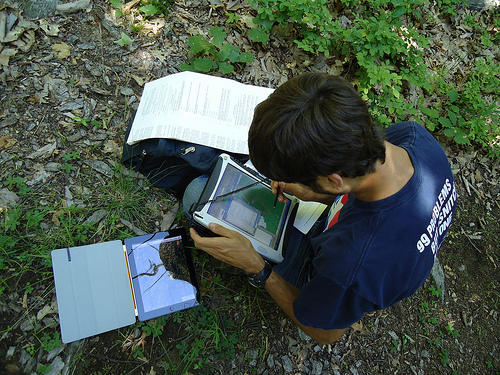 Mobile devices are increasingly getting used for fieldwork in industry.  The VIU Forestry department recognized that change and has integrated literacies for using mobile technology into their curriculum.