Kaltura Capture offers a simple, free option for VIU faculty, staff, and students to create and capture video and share it through VIUTube.  
Consider using Personal Capture for:
Video assignments
Lab demonstrations
Flipped classrooms
Student presentations
Video feedback
The Capture Application
Capture is a small application downloaded from within VIUTube which enables you to create video on your PC/MacOS computer. Capture is not currently available for tablets or mobile phones. Once you have downloaded the program, you can launch it from the Add New menu on VIUTube. 
Capture allows for 1 audio feed and up to 2 video feeds to be recorded simultaneously. The video feed can be connected cameras or monitors. You also have the option to record all or part of your screen.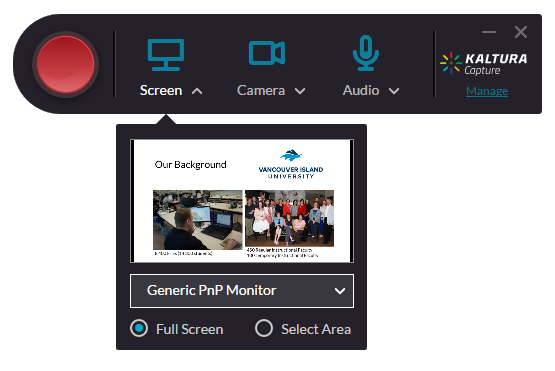 Watch the video below to see a demonstration from Kaltura.