Quiz Tool Overview
The Quiz Tool allows you to create quizzes and exams in VIULearn. Depending on the question types you choose, your quizzes can be self-marking, or require you to go over student submissions and grade them. VIULearn Quizzes are powerful tools with a variety of settings. For example, a quiz can can be set to automatically push its marks to your VIULearn gradebook once graded. This all results in less time spent marking and more time spent focusing on teaching. Watch the video below for a brief overview of the features of the Quiz Tool, or continue down the page to learn about the different elements of the Tool in more detail.
Creating a Quiz
You can access the Quiz Tool by choosing Assessment & Evaluation and Quizzes. To create a new quiz, click on the blue New Quiz button.
The only setting you must adjust to run a quiz are:
Properties tab: Give your quiz a name and import questions from Question Library
Restrictions tab: Activate your quiz
Click on the sections below to learn more about the Quiz settings available from each tab. 
Properties Tab
Properties Tab
What You Can Do on the Properties Tab
Name your quiz

Add it to a category if desired

Quiz Questions

Use Add/Edit Questions to add questions to your quiz
Once questions are added, use Questions per page to change the number of questions student see per page

Add a Description / Introduction and/or  Page Header / Footer  as desired

It is suggested that you include the date, time (including time zone) and time limit of the quiz in the description, as many students do not read the quiz details page.

Optional Advanced Properties:

Allow hints
Stop users from right or command clicking during a quiz (so they cannot copy and paste your questions)
Receive a notification when students submit their quiz attempts
Video - Properties Tab
At the top of the Properties Tab, you can type a name for your quiz. Best practice is to include the word "Quiz" or "Exam" or some other indicator of what the activity is in the title. This is true of all the assessment tools in VIULearn. The Properties Tab also has the Add/Edit Questions button. Before you add questions to a quiz, this is the only option under the Quiz Questions heading, but once you have added questions more options will appear.
Once you have entered a name for your quiz and added questions to it, you can click on any of the tabs to automatically save your progress and move on to another setting, or you can scroll to the bottom of the page and choose Save.
Add or Edit Questions
Once you click on the Add/Edit Questions button on the Properties tab you will be taken to a new screen, that looks very similar to the Question Library. You can always tell where you are by looking on the left hand pane, or by looking for the heading at the top of the page. In the Question Library it will say "Question Library" and in a quiz it will be the quiz title.

If you have already created your questions in the Question Library, all you need to do is click on the grey Import button. You will be taken to another screen. Select your Source Collection (the Question Library), Source Selection (the section in the Question Library you put your questions in, or Collection Root if you did not use sections) and select the questions you want. When you are done, click the blue Save button.

After you have imported your questions, you can either click on the Import button again to bring in more questions, or choose the blue Done Editing Questions  button on the right hand side of the screen to exit back to the Properties tab.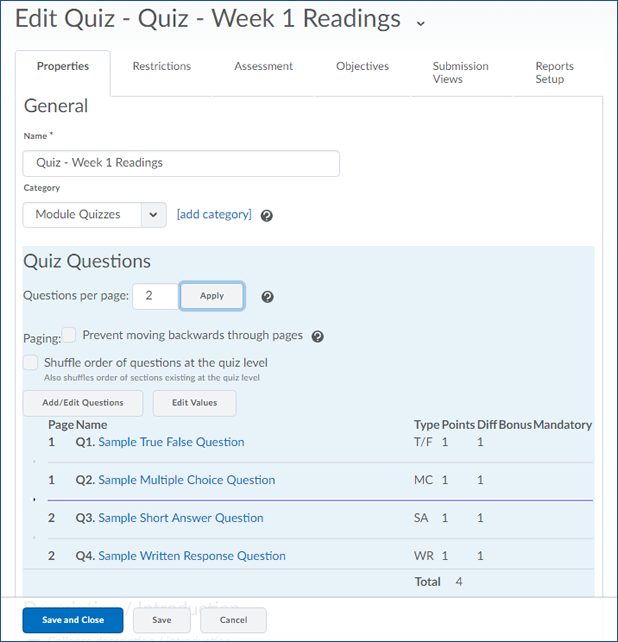 You have the option to apply "Questions per page:" We suggest no more then 5 questions per page, to ensure students save their questions often and prevent most internet browser time-out issues. You can also create page breaks between questions by clicking on the "Add page break" grey arrows on the far left side of the table. In the example above, there is a page break between question 2 and question 3.
Finally, make sure to choose either Save or Save and Close before navigating away from the screen.
Restrictions Tab
Restrictions Tab
What You Can Do on the Restrictions Tab
Activate your quiz
Set dates and restrictions

Add start or end dates and times
Display dates and/or times in the course calendar

Add Release Conditions
Set up a time limit


Choose whether or not the time limit is enforced
Choose how it is enforced
Give specific users special access - like extended time limits or different end dates for students with disabilities or special circumstances.
Activate Quiz
At the top of the Restrictions Tab, you have the option to set a quiz's status to Inactive or Active. Inactive is synonymous with Draft in Content. An inactive quiz is invisible to students. An Active quiz is visible.
Video - Restrictions Tab
Assessment Tab
Assessment Tab
What You Can Do on the Assessment Tab
Assessment

Connect quiz to VIULearn gradebook, and choose to export to gradebook automatically
Attach a Rubric
Allow quiz attempted to be set as automatically graded

If you have questions on your quiz you have to hand-mark or review, it is suggested you do not allow this setting

Attempts

Set the number of attempts allowed

If more then 1 attempt is allowed, additional grading options will appear, such as how multiple attempts will contribute to the overall grade
Assessment Tab
If you do not see the video, please click on the link to view it in a new window or tab: Assessment Tab
Submissions View Tab
Submissions View Tab
What You Can Do on the Submission Views Tab

Change the default view for students after they take a quiz. If you do not have automatic grading enabled, or you have long answer questions in your quiz, it is strongly recommended that you edit the default view so student grades are hidden until you publish them.
Create an additional student view to allow students to see questions, their responses, the correct answers and /or class average and score distribution.
Submission Views Tab
If you do not see the video, please click on the link to view it in a new window or tab: Submissions View Tab
Reports Setup Tab
Reports Setup Tab
 What You Can Do on the Reports Tab
Set up a report for faculty or administrators

Reports can include:

Question statistics 
User statistics
Attempt details
Please note: Reports can contain confidential student information and should never be released to learners
Reports Tab
If you do not see the video, please click on the link to view it in a new window or tab:
The Reports Tab
Add Quiz to Content
The final step for creating and using a quiz is to add it to your course content to ensure students can easily access it. To add a quiz to your course content:
Create your quiz in the tool area (Assessment & Evaluation and Quizzes)
Choose Course Materials and Content to navigate to your Table of Contents
Select the module or sub-module that you want the quiz to be located in
Use the grey Add Activities button to choose Quizzes
Select your quiz from the list by clicking directly on it
The quiz will appear at the bottom of the module or sub-module
You can move your quiz the same way you can move Topics.
Make sure to set your quiz to Published if you want students to be able to access it.