Overview
The email system in VIULearn will automatically forward messages sent within the system to the external email of the receiver, if there is one on file. Replies from the external email will go through the VIULearn email system, and then be forwarded to the intended recipient. For a visual overview, please see the image below.

When you have a new email in VIULearn you will likely see an orange dot on the Envelope icon on the minibar, unless you have changed your settings.
Accessing the Email Tool
Click on the Envelope icon 

on the minibar along the top of the page and select Email
Please note that the email tool is an "umbrella tool": even when you access it from a specific course you will see all of your email from all of your courses.
 The Email tool will open. You should see a screen similar to the one below, from which you can see a list of the most recent emails you have received, read emails, compose new emails and replies, and manage you emails and folders.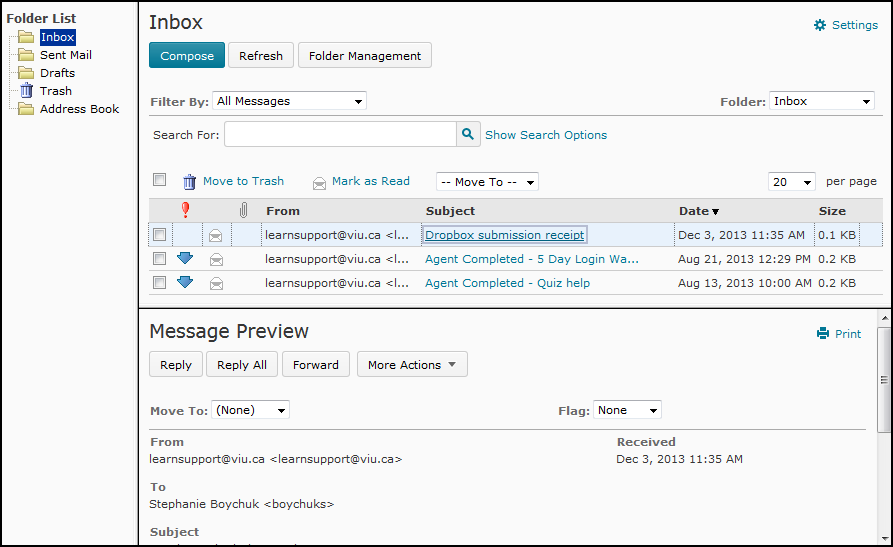 Composing a Message
There are a few different ways to compose messages in VIULearn, depending on who you would like to contact and your personal preferences.
Emailing your entire classlist
Choose Communications and then Classlist


Click the grey Email Classlist button at the top of the page

Scroll to the bottom of the list that appears and choose the blue Send Email button

The email composition screen will open
Emailing Specific Students
Choose Communicatons and Classlist
Use the boxes to the right of the students' names to select them
Please Note: If you have 2 or more pages to your classlist, adjust the students per page so you can see the entire list. Otherwise, you will lose your selections whenever you change pages
Once you have selected the student or students you want to email, click on the Email icon at the top of the classlist page

The Email Editing Screen
Please Note: When you select student emails from the classlist, they are automatically added to the BCC box. There does not need to be an address in the To box for the email to send correctly. Please do not move student email addresses to the To box.
You can add an email subject, information in the text box (which has the same editing capabilities as the other text boxes in VIULearn) and attach files to the email. When you are done you can either choose Send or Save as Draft at the top of the page.