Pros + Cons of Creating a File in VIULearn
It is important to note this information before deciding to create pages within the system. When you create a page in VIULearn you are creating an HTML page. When you create a page you are creating it inside of VIULearn. There will be no copy on your computer, it will exist only in an online format. You may be wondering why this information is being included as you already know that you can upload any common files into VIULearn. The reason we are covering this topic is because there are some Pro's and Con's to creating a Page in VIULearn.
Pros of a Creating a File in VIULearn
Keeps a consistent uniform look to your course
The file can be updated year after year in VIULearn (no downloading, fixing and re-uploading)
The editor functions just like Word - so you can type information that you want students to see.
The page prints directly from VIULearn
Files are stored online only - so no need to store on your computer
You can add media and images to pages
Its a great place to keep web links
Load quickly and efficiently
You can copy your pre-existing files into an online format
mobile friendly
Cons of Creating a File in VIULearn
can be a time consuming process
tables/charts do not display well
formatting the files can be tricky
files are only online - no back ups unless you download them
Creating a File in VIULearn
Creating a File in VIULearn takes a few steps. The following video is an instructional video on adding a file to VIULearn.
Editing VIULearn Files
Please read this page. Sometimes after you have created a page there are edits or updates that need to occur. This page explains how to edit the files you have made in VIULearn.
Editing your files in VIULearn is a four step process.
Navigate to the page you wish to edit.
There are 3 ways to access the file editing screen:
1) From the Content Area click on the arrow to the right of the file and select Edit HTML.

***Options 2 and 3 require clicking on the file name. Once in you are looking at the file you can:
2) Use either the arrow to the right of your file name from the file view
3)Scroll down to the bottom of the File and click the Edit HTML.


4) Once you have entered the editing screen, edit as necessary: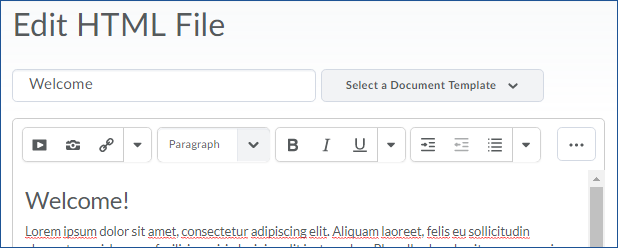 5)You now have the option of notifying the students that you have changed or updated your page.
You can choose to select - "Notify students that the content has changed"
6) Press Update to save and publish your changes or Revert to Draft to save your changes and set the file to Draft