Recommended File Types
VIULearn allows for the upload of most common file types, including:
Microsoft Word, PowerPoint, and Excel
Adobe PDF
Multiple image types, such as JPG, GIF, PNG
Multiple audio types, such as MP3
Multiple video types, such as MOV, AVI, WMV, MP4
Additional Accepted File Types
You can also use the following types of files as topics:
| Extension | File Type |
| --- | --- |
| HTM, HTML, MHT, MHTML | Web Document |
| RTF, PPT, PPS, PDF, DOC, DOCX, PPTX, XML, XLS, TXT, WPD | Text Document |
| JPG, JPEG, PNG, GIF, BMP, TIF, TIFFv | Image |
| SWF, MPG, MPEG, RM, MP3, MP4*, M4V*, M4A*, AVI, WAV, RAM, ASF, MOV, RA | Media |
You can upload all of these file formats from your desktop directly into the Content tool.
Additional information

Restricted file extensions
VIULearn does not allow the upload of the following file types:
Microsoft Access
Any executable file, such as EXE
Additional Restricted file extension:
The following file extensions are not supported by Learning Environment:
Restricted Upload Extenstions
ASP
ASHX
JSL
VB
ASPX
ASMX
LICX
VBPROJ
EXE
AXD
REM
VJSPROJ
BAT
CDX
RESOURCES
VSDISCO
DLL
CER
RESX
WEBINFO
COM
CONFIG
SHTM
INI
ASA
IDC
SHTML
ASAX
CS
SOAP
ASCX
CSPROJ
STM
Uploading Files to VIULearn
Using Drag + Drop to Upload Files
"Drag and Drop" is a quick way to add files to the content area of your course. If you drag a file over an upload target, that area appears green or orange to indicate you can drop it there. Upload targets contain the text "Drag and drop files here to create and update topics." Drag files from your computer into a module's upload target to add or update topics (the files will save in the Manage Files tool). You can also drop files from your computer directly into modules in the Table of Contents panel and into a topic's collapsible side panel.
Dragging to drop targets is a quick way of reorganizing modules and topics. If you drag a module or topic above or below other modules and topics, a gray line appears to indicate you can drop the module or topic there. If you drag a module or topic over another module, the module appears orange to indicate you can drop it there.
If you do not remember where you recently moved a module or topic, use the Content tool's Search field to find them.
When you drag a module, a blue line indicates a drop target. A module turns blue when it is a drop target for another module or topi. You can see both in the graphic below.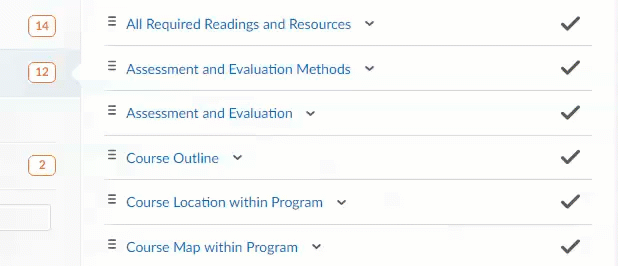 Viewing, Printing + Editing Uploaded Files
When you have finished uploading your files you'll probably want to see what the look like from the student perspective. Once you have uploaded your files you can view them, print them, and edit the file title. Please note - some browsers will load PDF's slightly differently.
Viewing Files
You will be able to see the file "in frame" in VIULearn. If you click on a .doc, .docx, .rtf, .rtfx, or .pdf file topic , you can preview it in a document viewer on the topic's page.
 Once a file has been uploaded when you view the file in the content area it will look something like this: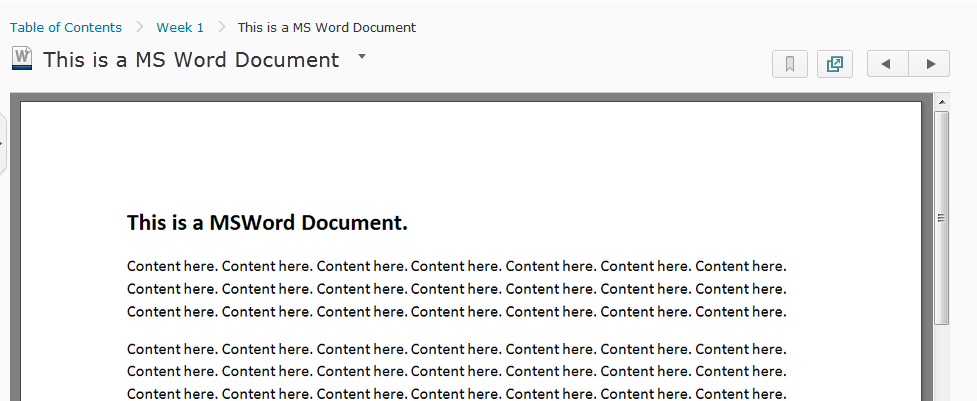 Printing Files:
When you upload a file such a Word document or a PDF students can view your file "in frame", however they cannot print this file from VIULearn. In order to print, the learner must first download the file. Then they will be able to print.
--- See above information about PDF files in some browsers. ---
You can download individual topics or whole modules from the Content tool. You can also download all modules and topics in your course from the Table of Contents page in the Content tool. Downloading content to your computer is useful for viewing content offline. Your content downloads as zipped files and folders.
Editing Files:
Once uploaded, your Word, PowerPoint, and other files cannot be edited in place. If you want to make changes to your syllabus.docx file, for example, you need to make those changes to the copy of your syllabus stored locally (e.g., on your computer hard drive or network drive) and then re-upload the file to VIULearn.
Audio and Video
We do not recommend uploading audio and video files to your course. THe main reason for this is that it will slow your course down and it will take longer to load for the students.
Audio and Video files tend to be large files. Large files pose a series of issues for both you and your learners.
Currently, there is no maximum allowable file size applied to D2L file uploads. What this means in theory is that you could upload an extremely large file, such as a lengthy audio or video file or an uncompressed image. In practise however, you and your students will run into trouble when trying to upload and download large files (e.g., > 50 MB).
The upload process may timeout before the file is fully uploaded to D2L
Large files may take an extremely long time for students to download, depending on their Internet connection
Recommendations
We recommend that you upload all audio and video to VIUTube. Anyone with a VIU computer account can log in and upload their audio and video files to their own safe, secure account that is stored here on campus.
VIUTube is a media solutions platform powered by Kaltura which facilitates the sharing of video and audio online. Faculty, staff and students may upload media content to VIUTube where the content is converted and optimized for streaming in a web browser or on a mobile device. VIUTube is very similar in functionality to the popular video sharing site YouTube, except all of the content is stored locally on VIU servers and authentication is linked to VIU user accounts.
Access VIUTube: http://viuvideos.viu.ca 
Once your media has been uploaded you can link to your videos or embed them in your course. This will be covered in a later module.
 Other Interesting Information
What happens when students download a file that you have uploaded to D2L varies based on the Web browser they are using and the type of file they are downloading.
In order to add a topic, you must you must have at least one module as discussed previously in the structure section.
VIULearn does not use the title of your file in the Title field. You must add a title manually. Your topic title can be the same as the name of your file, it can include spaces, and can be as long as desired.
The short title is optional and refers to the title that is used in the left sidebar when students are viewing your Table of Contents (TOC). A short title is handy if you have a long title that does not fit well into the smaller space allocated to the sidebar.
Once uploaded, your Word, PowerPoint, and other files cannot be edited in place. If you want to make changes to your syllabus.docx file, for example, you need to make those changes to the copy of your syllabus stored locally (e.g., on your computer hard drive or network drive) and then re-upload the file to D2L.
When you upload a file, the default storage location is the root directory. You can change that (e.g., to save the file to a folder that you created) by selecting the Choose Destination button. This will open the Select a Path screen. Select the desired folder to highlight it and then select the Select a Path button. You can organize files and folders using the Manage Files function which will be discussed later in this course.
Note that when you successfully choose a file, the default No file chosen text next to the Choose File button will change to the name of the file. That does not mean that the file has been uploaded. You still need to select the Save or Save and Close button.