You must create a module before you can add topics. You can create sub-modules (modules within existing modules) to establish a deeper hierarchy. If you want to keep your course content hidden while you are building it, set the status of your modules and/or topics as Draft.
If you do not see the video, please click on the link to view it in a new window or tab:
Adding Modules and Sub-modules in VIULearn
1. Navigate to Content by clicking Content  on the Course Navigation bar 
2. From the Content tool, click Add a Module.

3. Type the title of your Module and press the enter key. 
4. You will get a notification that your module has been created successfully. 

The system will automatically put you into the Module you have just created. From this view you can add a Sub-Module to your Module. 
5. Click Add Sub-Module.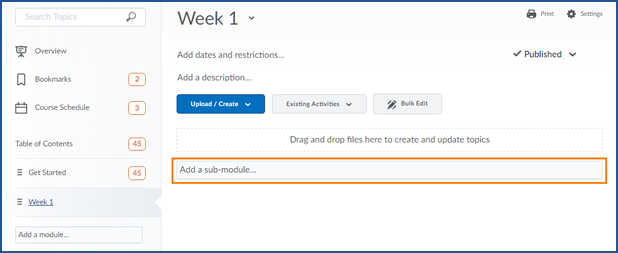 6. Enter the title for your Sub-Module and press the enter key.
7. One again you will see a notification that your Sub-Module has been successfully created.