My Home Navigation for Faculty
If you do not see the video, please click on the link to view it in a new window or tab: My Home Overview
Pinning Courses to My Home
If you do not see the video, please click on the link to view it in a new window or tab: Pin Courses
Navigating Course Home
If you do not see the video, please click on the link to view it in a new window or tab: Course Home Overview

Navigating the Content Tool
If you do not see the video, please click on the link to view it in a new window or tab: Content Tool Navigation
1. First, to access your course, click on it from your My Home page.
2. The Course Home page will load. All Course Home pages in VIULearn have exactly same layout, which makes it easier for students and instructors to navigate.
3.   From the Course Home page, click Content  on the course navigation bar.

4.   If this is the first time you have entered into the content area, you will be taken automatically to the Overview area. The overview is a place to add information that the students need to access all the time. If you choose not to use the overview, it will be hidden from students.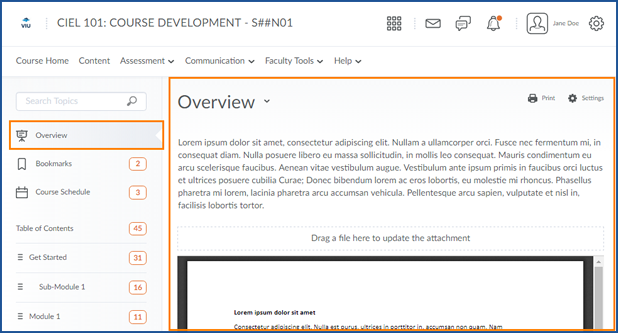 5.   Below the overview is the Bookmarks and Course Schedule. These areas allow students to bookmark your course materials and view events you have put in the course calendar.
6.   The Table of Contents allows you to view all of the top-level modules in your course. If you click directly on Table of Contents you will see a scrolling pane open to the right of the screen that contains all of the material in your course.
7.   If you want to look at a specific module, click directly on its name under the Table of Contents. That module will appear in the pane to the right. You can view and edit many aspects of the module. Please see our other support videos for more detail on creating and editing modules.
8.   You will also see a blue Upload/Create button, as well as Existing Activities and Bulk Edit. These are the buttons that allow you add content and activities to your course. Content and activities are referred to as "Topics" . You can also make changes to your course materials. There is more detail on how to use these buttons in our other support videos.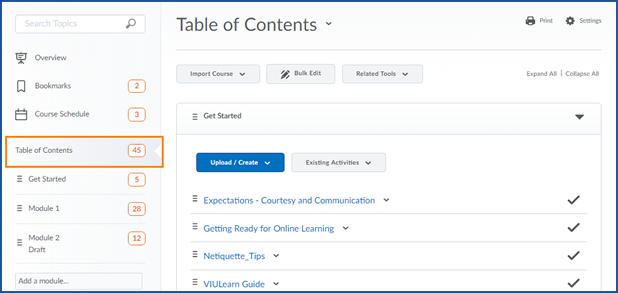 9.   In order to view or read a topic, you can click directly on it. It will open in the reading frame.
10. From the reading frame, you can download a topic using arrow to the right of the file, or the button at the bottom of the frame. The drop-down menu also allows you to Change Topic Files, which makes updating files easier. If you have an HTML page in your course, you can also choose to edit the file from this menu.

11. If you scroll below the reading frame, there are more editing options for your file. You can change how student completion of the file is tracked, view which students have completed the file, and add dates and restrictions to your file. You can also change your file to draft or published mode, which changes its visibility.
12. In this view, you can scroll through your content topics using the previous and next arrows. You can also jump back to the Content Tool using the breadcrumbs at the top of the page under the course navigation bar.