Overview

Course banners are enabled by default in all VIULearn courses. The image used for your course banner is your course image. You will also see your course image on the My Home page as the course tile. You will have automatically been assigned a random image as your course image. You can choose a new image from an image library within VIULearn or you can upload an image of your choosing.
The optimal dimensions for your course image are 2400 x 980 pixels. The minimum size to avoid any distortion on larger screens is 1170 x 478 pixels.  The banner will display the center 1170 x 200 pixels (or 2400 x 410 at the optimal size) of your course image.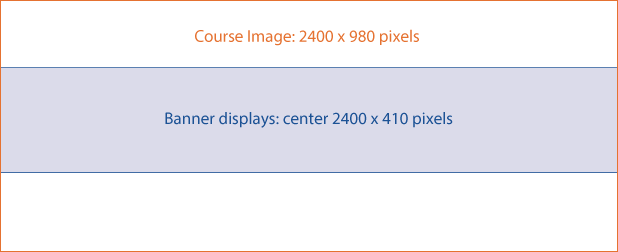 If you upload a file that is larger or smaller than the recommended dimensions, the image will be automatically resized in VIULearn for display in the banner and in the My Courses area. Because large files can slow down the loading time for your course and cause problems for learners on mobile devices or with limited bandwidth, we recommend never uploading any file larger than 1MB into your course.

Change Your Course Image
On the My Home page, hover your cursor over the course tile. You will see three dots appear in the top right of the image.

       
Click on the dots to open the menu and choose Change Course Image

       
You have three options from the Course Image page:
a. Search for an image
b. Select an image from the ones displayed
c. Upload your own image


    
To choose one of the images already loaded into VIULearn, simply click on the image and the course image will be changed
If you prefer to upload your image, click Upload to be taken to your Course Offering Information
Click Browse


   
Locate the image you want to use either on your computer of in the Course Offering Files if you have already uploaded the image to your course
Click Add
Click the blue Save button to save your changes.

Disable the Course Banner

1. On your Course Home page, hover your mouse over the banner
2. Click on the three dots that appear in the right corner and choose Remove Banner





3. You will see a confirmation that the banner has been removed



Enable the Course Banner

1. Click Faculty Tools and Course Admin
2. Open your Course Offering Information
3. Check the box next to "Display the image in a banner on the course homepage"




     
4. Click the blue Save button