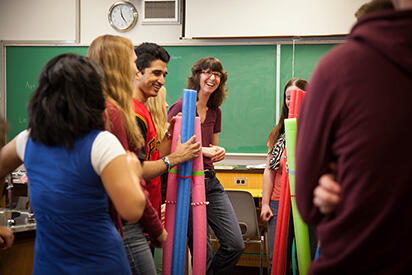 A course portfolio is a coherent narrative or investigation of a specific course that is documented, and reflected upon, as it is being taught.
Its purpose is to capture and document all of the insights that you have over the course of the semester that you can then use to enhance and enrich the course the next time you teach it.
These insights may relate to a course that you have taught many times and now seek to 're-fresh', to a course that you are teaching the first time, or to a elements of a course that you are now approaching in a new way.
Course portfolios also serve to guide reflection on your teaching and learning practices, and to act as a vehicle to give structure to the process of developing or enhancing your courses.
A finished portfolio will include both supporting documents that are created along the way, as well as an analysis of those documents once the course has been completed.
Elements of a course portfolio
Course portfolios may take many forms, but should include:
An explanation of your course, how you teach it, and a rationale for any changes you implemented with supporting documentation.
A reflection on the impact your course had on student learning, 
Evidence from student assignments to support your reflection
A reflection on how the course might be further developed to further  enhance student learning
Supporting documentation can take many forms, including:
Context of course within degree
Syllabus
Description of Learning Outcomes
Examples of assignments and assessments
Analysis of student performance
Student feedback and evaluations
Ongoing faculty reflections  
Conclusions and next steps to be taken
Creating a course portfolio can have significant benefits for both faculty and their students.
For faculty, benefits include:
A repository of teaching strategies and techniques to draw on when building new courses or enhancing existing ones
An opportunity for individual reflection on teaching and learning practices
An ongoing record of developing practice
A method for systematically collecting feedback and insights on courses and teaching
For students, benefits include
More effective teaching strategies employed by instructors
A systematised way to benefit from feedback from previous cohorts
The opportunity to contribute to the future development other course
If you have ever finished a course knowing exactly what you would keep and change the next time it came around, revamped a course and wanted to evaluate the new version compare to the old, or wanted to collect and compare information on what lessons worked well, and which ones worked less well, the building a course portfolio is a good place to start.
Reflective Process: Growing the Mind of a Scholarly Teacher
Gibbs (1988) gives us an easy cyclical model to consider our thinking. After any teaching or learning experience, think of the experience in three parts.
Learn more about: Reflective Process
Definitions of Reflection
The term 'reflective practice' derives from the work of Dewey and Schon. Dewey (1910) wrote that reflective practice refers to 'the active, persistent and careful consideration of any belief or supposed form of knowledge in the light of the grounds that support it'.
Learn more about: Reflection
Seven Principles for Good Practice in Undergraduate Education
Possible Framework for Portfolio Components 
Arthur W. Chickering and Zelda F. Gamson | Adopted from the March 1987 AAHE Bulletin
Learn more about: Seven Principles for Good Practice