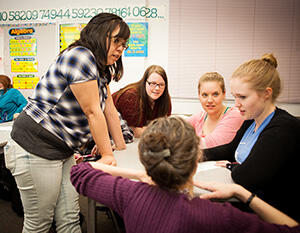 Let's celebrate small victories!
A mini-portfolio is a 3-6 page collection of texts, images, or documents, organized to show the impact of a single instructional technique or strategy you've used.
It might be used to document anything from an attempt to flip a single class, or introducing a new technology or assessment type. A mini-portfolio is 'bite-sized', easy to capture, and framed by a brief written or video essay.
You can use mini-portfolios for your personal reflection, for sharing your practices with colleagues, or as an element of the Recognition of Achievement Program to show what you do to engage students.
Whatever your motivations for making a mini-portfolio, it's not time-intensive, and it's a great first step down the road toward building a more comprehensive teaching portfolio.
Elements of a mini portfolio

Mini portfolios may take many forms, but should include:
A description of a new or existing teaching activity
An explanation why that teaching activity is used, and how you came to use it
An evidence-based reflection on its impact on student learning
A reflection on how the teaching activity might be further developed to enhance student learning
Why create a Mini portfolio
Capturing personal reflections
Sharing practices with colleagues
Modeling reflective practice for your students
Demonstrating your academic activities, achievements, and future goals
Reflective Process: Growing the Mind of a Scholarly Teacher
Gibbs (1988) gives us an easy cyclical model to engage in the reflective process. After any teaching or learning experience, think of the experience in three parts.
Learn more about: Reflective Process
Definitions of Reflection
The term 'reflective practice' derives from the work of Dewey and Schon. Dewey (1910) wrote that reflective practice refers to 'the active, persistent and careful consideration of any belief or supposed form of knowledge in the light of the grounds that support it'.
Learn more about: Reflection
Seven Principles for Good Practice in Undergraduate Education
Possible Framework for Portfolio Components 
Arthur W. Chickering and Zelda F. Gamson | Adopted from the March 1987 AAHE Bulletin
Learn more about: Seven Principles for Good Practice