Video Interview with Rita Alton, Science, Adult Basic Education
Introduction
I teach Math and Science in the Adult Basic Education Program. This year I'm teaching Chemistry. When I volunteered to flip a couple of classes per term, my first instinct was to choose a section of the course that students generally do well in. As I learned more about flipping, I realized that I could, instead, address a challenge that I always face when teaching lab based courses.
Students, in general:
are not engaged during lab activities; they follow recipes, rather than conduct experiments 

do not employ strategies that would allow them to work efficiently, because they don't analyze procedures 

do not really understand the connection between experiment objectives and conclusions
This project has made me realize that it's not so much that students aren't engaged, it's that there's not much to engage with! Labs are often poorly designed; they are like recipes that try to ensure everything proceeds predictably, and they don't generally require much analysis and planning. Boring for students – and kind of boring for me!
I decided to have students design their own lab projects. This is the second time I'm running the project, so I will discuss what worked, what didn't work, and what changes I implemented in the second term of the Flipping Project.
What Worked?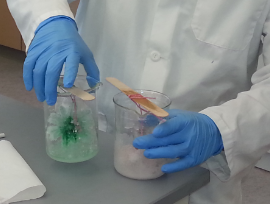 I felt that students were definitely more engaged than when completing a traditional lab
Several students asked to conduct additional experiments, and they ran them until the end of term –

a definite first for a project expected to end after 2 weeks!

An unusually high number of students took pictures and videos –

fun for me, fun for them

It seemed that they were more animated, and asking more questions -

I was more animated, and asking them questions
I also felt that some student interaction might not have taken place without this project. One student who normally minimizes interaction with others developed a particularly interesting project, which he was able to explain in great detail to his classmates. I had no idea he was so knowledgeable, and had such a genuine interest in chemistry. I was also able to connect with this student in a way that I don't think I would have been able to do without this project.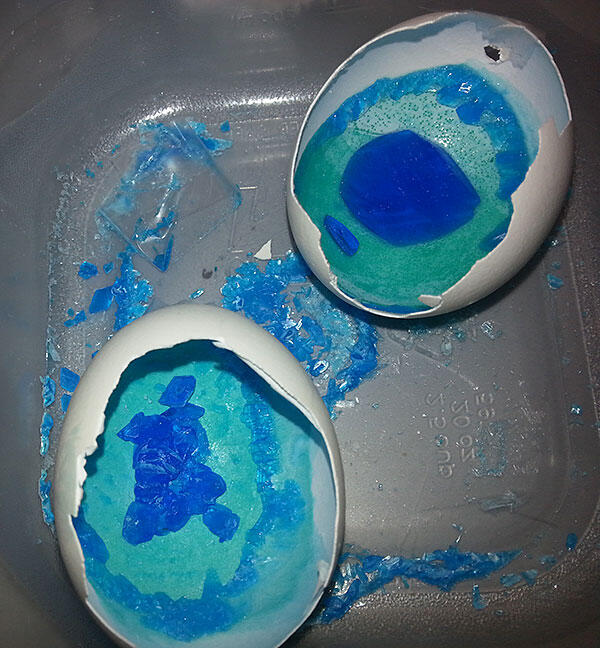 It seemed that the quality of student lab write-ups improved; they demonstrated a clear understanding of the link between their objectives and conclusions. There was more participation in pre/post lab discussions. I encouraged them to be really critical about the way subsequent labs were designed – by me. My labs are becoming deliberately sparse, maybe even ambiguous, so that we can really analyze them prior to conducting the lab.
What Didn't Work?
Not all students came to the flipped class prepared
The second time around, I included a questionnaire (name optional) that asked them to evaluate the approach they take when preparing for and completing an assignment. They complete part of the questionnaire prior to beginning the project, and then self-reflect once their graded assignment is returned to them.
Some students struggle to break a project into logical steps, and impose a timeline
Now I'm giving them more extensive instructions and rubrics 

I altered the pacing to give students more time between tasks, and I followed up with them on an individual basis to ensure they were moving forward with their projects
What Does This Class Look Like Within a Semester?
Date

In Class

Outside of Class

Jan 14
Introduction to Flipped Class concept, and project details discussed

Students read about crystals – complete Crystal Formation Worksheet
Students research various possible projects, choose one, and write Lab Proposal

Jan 27

Flipped Class:
• Students hand in completed Crystal Formation Worksheet

• Students come to class with their Lab Proposals, so that they can discuss possible projects with other students and instructor

Students develop formal Lab Procedures
Feb 10

Students bring a comprehensive draft of Lab Procedures

Students give feedback to one another about the procedures, using criteria we will develop as a class

Students make revisions to Lab Procedures, if required
Feb 17
Students submit Lab Procedures, for final approval
Feb 22
Lab Day
Feb 29
Final Lab and Report Due