Types of Inquiry for the Post-Secondary Classroom
Inquiry Based Learning
Inquiry Based Learning places the responsibility for learning on the students, and encourages them to arrive at an understanding of concepts by themselves, following a process that can include:
Determining what they need to learn
Identifying resources and how best to learn from them
Using resources and reporting their learning
Assessing their progress in learning
Levels of Inquiry
There are many ways of thinking about the levels of inquiry within your classroom.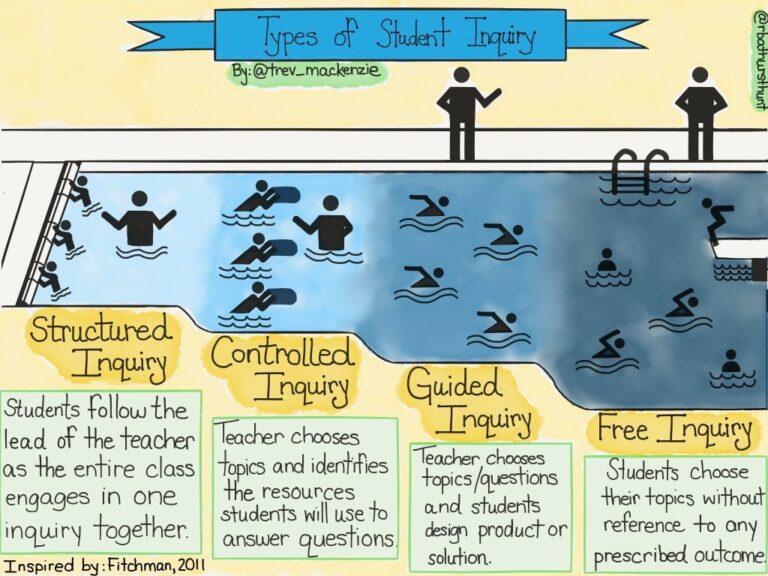 From "Personalized Learning Using the Types of Student Inquiry" by Trevor MacKenzie.
The table below is one attempt to summarize the different levels of inquiry. The levels provide a way of thinking about how much responsibility is given to learners, and how much guidance is required from faculty members.
Level of Inquiry
Description
Supports Learning to
Level 1
Confirmation Inquiry
The faculty member gives learners a question and procedure that leads to a known result. Learners follow the directions. Reinforces concepts and confirms previous understandings.

Follow procedures
Collect and record data

Level 2
Structured Inquiry
The faculty member gives learners a question and outlines procedures that leads to an unknown result. Learners investigate and answer the question.

All of the above, plus:
Formulate explanations
Evaluate and analyze data

Level 3
Guided Inquiry
The faculty member gives learners a question with an unknown answer. The learners design procedures, investigate, and answer the question.

All of the above, plus:
Design procedures

Level 4
Open or True Inquiry
Learners design their own question(s) and procedures. They must investigate and answer the question.

All of the above, plus:
Formulate questions
Communicating results
Inquiry Practices
Some inquiry-intensive practices include:
Design Thinking
Design Thinking supports and structures the creative process of generating ideas and bringing them into reality through concrete actions and products. Commonly used to frame student work in art, but adaptable to many other disciplines, Design Thinking guides students through five phases of thinking and activity: Discovery, Interpretation, Ideation, Experimentation, and Evolution.
Problem-Based Learning
Problem-Based Learning confronts students with messy, complex problems encountered in the real world as a stimulus for learning. Problems are raised with students before have been taught the relevant knowledge. By actively engaging with the problem first, learners develop skills around defining problems, identifying what information they need, and finding, evaluating and using information. Learners are able to connect their thought processes in class to solving problems in the real world.
Case or Scenario-Based Learning
Case or Scenario-Based Learning engages students in analysis of specific scenarios that resemble or are real-world examples. This method is learner-centered with intense interaction between participants as they build their knowledge and work together as a group to examine the case. The instructor's role is that of a facilitator while the students collaboratively analyze and address problems and resolve questions that have no single right answer.
Meta-questions
Meta-questions are framing questions designed to structure student work during a whole term within an enveloping investigation. Activities are developed and resources are chosen for supporting students' consideration of this Big Question. Daily discussions and various assignments repeatedly return to the framing inquiry, and at the end of the term students are asked to produce a comprehensive response to the Meta-question.
Inquiry can also be embedded in other learning frameworks, such as:
Undergraduate Research
Threshold concepts
Public Sphere Pedagogy
Engaged Learning (e.g., civic engagement)
Field work
Progressive Inquiry
Project-based learning