This section is about the work of the Council in 2017-2018.
Overview
The Council on Learning and Teaching Excellence is a body of faculty-only members chosen by their Faculties to lead institutional initiatives on teaching and learning. In its 4th year, the Council provides faculty members with leadership opportunities and professional learning experiences to contribute to a teaching and learning challenge facing the institution (for 2017-2018): How can we integrate VIU's Graduate Attributes across the institution? In order to build a cohesive community of leaders, Council members committed to clearing their schedule or arranging to be freely available from teaching duties on certain 'retreat' days to do collective work.
Membership for 2017-2018 Council
Faculty of Education: Bonita Davidson and Louis Mattar
Faculty of Science: Sue Sanders and Sarah Carruthers
Faculty of Social Science: Linda Derksen
Faculty of Arts and Humanities: Nancy Page and Jackie Kelly
Faculty of Academic and Career Preparation: Charlene Stewart
Faculty of International Education: Belinda Williams and Dawn Johnson
Faculty of Management: Chris Jaeger and Duane Weaver
Faculty of Health and Human Services: Mary Anne Moloney, Carla Tilley, Paula Schnare and Deb Denhoff
Faculty of Trades and Applied Technology: Jason Sutton and Graham White
Kick-Off Retreat Days: May 3 and 4, 2018
The 2017/18 Council on Learning and Teaching Excellence was convened on May 3 and 4 at the Nanaimo Golf Club. This was the inaugural meeting of a new approach to the Council, which will see Council members expand their view of supporting teaching and learning by driving an institutional change project. The focus of this year's Council's work is embedding the University's Graduate Attributes.
Over the two days, the Council walked through the history of past Councils, interrogated the Graduate Attributes from various perspectives, reflected on what the Attributes meant in their own disciplines, and identified where they had opportunities to introduce them. They also examined the characteristics of respected leaders, and explored how they can start to 'lead from where they sit'.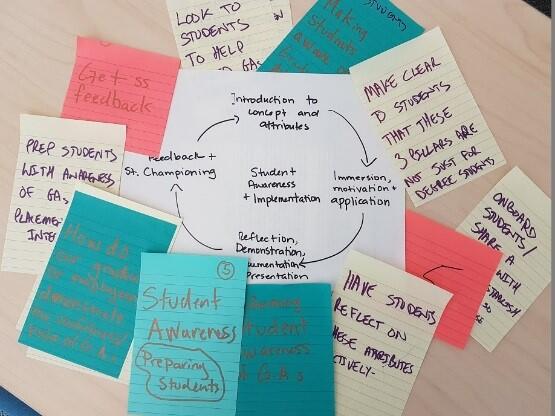 Council members identified several key themes which will become the focus of the Council's work over the coming year. These themes are:
Taking stock/environmental survey: What is already being done to embed Graduate Attributes, and where are the gaps?
Collective representations: places, spaces, and art: How can the Council leverage our environment to raise awareness of the Graduate Attributes?
Resources and collaboration: What are the roles and responsibilities of the Council members, and who do they need to draw on to support their work?
Getting the message out: What are core messages to be communicated, how will they be communicated, and how will the Council ensure it embodies the Graduate Attributes in its work?
Student engagement, awareness, and preparedness: How does the Council ensure that the Graduate Attributes become a recognizable, core part of the student experience at VIU, and engage our students in championing it?
Faculty, Student and Campus Community Groups: Summary of Activity
Throughout 2017-2018, three sub-groups of the Council worked to engage faculty, students and community members in greater awareness of VIU's graduate attributes.
The groups came together for an August catch up session, a December retreat day and a February retreat day. In addition a breakfast or lunch meeting was held in early February to have groups check in and plan for remainder of the semester.
In March, all three groups prepared and presented "Share Out" sessions engaging audience members in more discussion and exploration of the Graduate Attributes.
PDF
Graduate Attributes: Council Summary