VIU Pilot on Peer Observation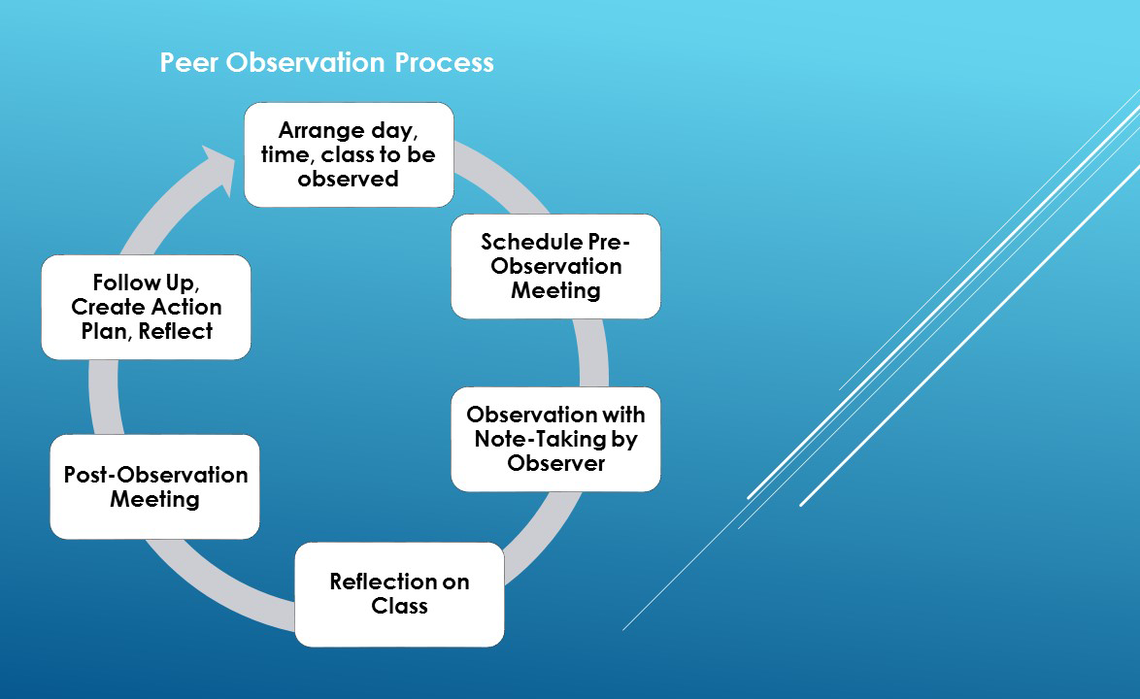 In 2015-16 five members of the VIU teaching faculty, while serving on the VIU Council on Learning and Teaching Excellence, engaged in an experiment to explore as a group the benefits and challenges of structured peer observation. The goal of the project was to evaluate the peer observation process at two levels: first, to determine the value of the experience for an individual faculty member; and second, to consider whether peer observation would be an effective way to promote reflective practice more broadly in the professional teaching culture at VIU.
Over two semesters, members of the Council exchanged multiple classroom visits, applying the specific protocols and practices described in the "VIU Guide to Peer Observation." Following are excerpts from the faculty reports based on their experience.
Bryan Webber, Management | Full Story
Excerpt: What has been most interesting is that in addition to the excellent feedback I get from my colleagues, I have found that my involvement in this project has raised my overall attentiveness to my preparation and practice. In the process, the
"observees" define what we want our observers to pay attention to, something we want to focus on for development. In reflecting on what I want to work on, and how it's related to the outcomes I want for students, I have greatly increased the understanding of what I'm trying to do and why, and consequently I've been able to make improvements based on my own reflection as well.
A benefit I did not expect was that in watching others teach, and in the feedback sessions where we often end up in rich discussions about teaching, there's a substantial opportunity to learn from others. So I find myself making changes in my practice, not just from the feedback given to me about what I'm doing, and from taking a more intentional view of my own process, but also based on what I see others doing that I want to incorporate. I'm already considering how to make this practice a regular part of my work every semester.

Louis Mattar, SHAPE | Full Story
Excerpt: When we began the peer observation process there was a real sense that this process would be evaluative, but that was quickly dispelled, and the true nature of the practice became clear, that the observations were a means of personal reflection. I have reflected on my teaching practice in the past, but looking back it was a hollow gesture. Simply thinking about what I was doing well, and what I could do better was not an effective way to become a better teacher.
By having someone come into my classroom, it forced me to clearly think about what I was going to do, and what I wanted them to look at. This type of reflection on my practice BEFORE I even taught was a transformative experience. The tasks I gave my observer were geared towards my delivery of material, and interactions with the new technology in the classroom. My observer was able to confirm that my teaching style, and use of technology were very effective. While the confirmation of my own beliefs does not seem very revolutionary, it gave me the freedom to explore new and different aspects of my teaching practice.
Les Barclay, English Language Centre | Full Story
Excerpt: I realized that the process is neither burdensome nor stressful. It takes approximately 2 or 3 hours for one cycle of exchanged visits. The insights of my observer were valuable in that they provided a detailed picture of my teaching that I wasn't seeing, or had forgotten. Teaching is often a lonely profession where we don't really know what is going on inside other classrooms. Peer observation provides the opportunity to see inside these other classrooms and collaborate with and support teaching colleagues outside of our own department. In this way it has value from different perspectives.
Rachel Moll, Education | Full Story
Excerpt: During my second year on the Council, I ended up in the Peer Observation work group. It didn't appeal to me at first, but upon reflection, I realized that I hadn't received any feedback on my teaching from a colleague/peer since teacher's college! As an educator who recognizes the importance of both feedback and reflection for improving practice I became intrigued by the peer observation process and what I could learn - about myself!
As an observer I learned that it is hard to make good observations and that it requires practice and discipline to avoid making interpretations and to just record what was going on. As an observee I learned that participating in this process was an excellent opportunity for encouraging reflection. The bulk of my post-observation meeting, as an observee, involved me talking (not the observer!) about my reflections on how it went. It was also really interesting to hear someone else tell the story of what happened in my classroom. Engaging in that conversation really helped me to reflect deeply on particular elements of my practice.
Tim Stokes, Earth Sciences | Full Story
Excerpt: I was initially quite apprehensive about peer observation, and was not quite sure what it was about and why it might be useful. As observee, I was teaching a course using Team-Based Learning, and was interested in receiving feedback on the learning activities I was using – particularly in terms of how they were organized and the timing of their delivery. The feedback I received was fair and honest. Specifically, I learnt about the importance of sequencing my learning activities so that they were connected, and how the timing of their delivery is key to promoting an in-depth understanding of the materials.
When visiting other classes, I was initially surprised by how much I learnt as the observer, recording in detail what the instructor and students did during class, and whether they interacted effectively. In both of my experiences as observer I think I was able to assist the instructors in providing the feedback on various aspects of their classes.
In terms of the overall impact to my teaching, I feel that peer observation has given me more confidence and I now know that I am on the right course in terms of how I teach. I am more comfortable in accepting that mistakes can be made during teaching, and that by careful reflection there is always a way to improve and develop solutions. Being open-minded and accepting of feedback is important. It also helps having some level of comfort and trust with the person or persons who you do the peer observation with.