Importance of Planning
Planning is a vital component to being an effective instructor. When you plan more, you will see an improvement in the flow and delivery of your content. Your students will also see a competent instructor who has an organized class and this is something students appreciate!   It is important that you take time to lay out a plan for your classes to ensure success for both you and your students.
Four Key Questions
Before planning can begin, consider the four questions listed below:
The answers to these questions will help you begin your class planning process.
What shall I teach?
How shall I teach?
How can I organize it?
How can I assess it?
Look at the two flowcharts below. Consider the differences between how instructors teach versus how instructors plan.


How Instructors Teach Versus How Instructors Plan
In the preceding flow charts, did you notice any differences between how instructors teach versus how they plan? Inexperienced instructors tend to plan in the same order as they teach, but soon learn that this is not an effective method. Here is a brief explanation of how an instructor should consider planning.
Overview of the Student Learning Perspective
Model of Student Learning
This diagram depicts the model of how a student learns. A student arrives in to a learning experience with previous experiences and knowledge. They also have a perception of the learning and various approaches to how they'll learn that significantly affects how much they will learn and to what quality. When we do not consider the perceptions and approaches to learning and jump directly to learning outcomes, we inaccurately design learning experiences without considering all the student perspectives.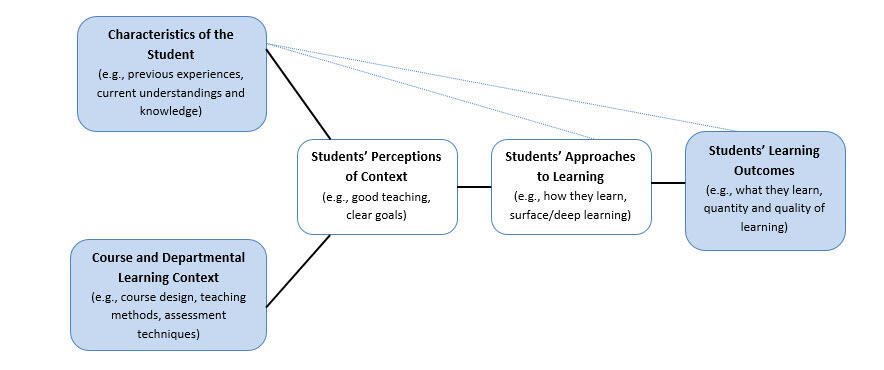 Note: there is not a direct link from course/departmental learning context to achievement of learning outcomes – rather we must consider students' perception of the context and this influences their approach to learning
Watch the Art of Teaching Video
VIU faculty members featured in The Art of Teaching include professionals with a range of experience from those with just a few years in the classroom to others who have found ways to keep their approach fresh after more than 30 years on the job.