Rubrics are matrices that communicate clearly and succinctly criteria and standards for evaluating student work. When used appropriately rubrics can be effective teaching tools for the purpose of clarifying expectations for students. Many instructors adopt rubrics as a way to save time in marking.
Why use rubrics?
Rubrics can make the task of grading more effective and more efficient. Although they require time upfront in designing and building, rubrics can save significant time when it comes to grading student work. They can also be reused and easily tweaked. Rubrics can also be used as clear evidence of grading choices, and to provide reference points when speaking to students about grades, areas for improvement, and areas of excellence.
Rubrics also provide guidance to students on what is expected of them in an assignment. For this reason, it is important to provide rubrics to students BEFORE they submit an assignment, and ideally whenever the assignment is first introduced to students. Students should have access to the criteria for an assignment in order to support them in completing the assignment in a successful way.
Tip from a Curriculum Teaching and Learning Specialist
Have students complete a self-assessment using the rubric and hand in along with the assignment. Having students complete a self assessment using the rubric encourages students to consider the criteria deeply, and apply it meaningfully to their assignment. And all of this can contribute to higher student success as they revise and adjust their assignment accordingly.
Types of Rubrics
There are different types of rubrics, including analytic, holistic, and checklist. Which rubric you choose depends on the type of artifact you are grading, and the nature of what you are looking to assess.
Analytic rubrics are often in a table/matrix format with 3-4 levels and descriptions of criteria per each level. Columns represent various levels of achievement, and rows represent the assessment criteria. Analytic rubrics are used when an instructor wants to break down an assignment into various categories, and assess criteria in each one. In this way, analytic rubrics assess the breadth of quality for different components within an artifact.
Analytic Rubric Example
Click on the image to view an accessible PDF version of this rubric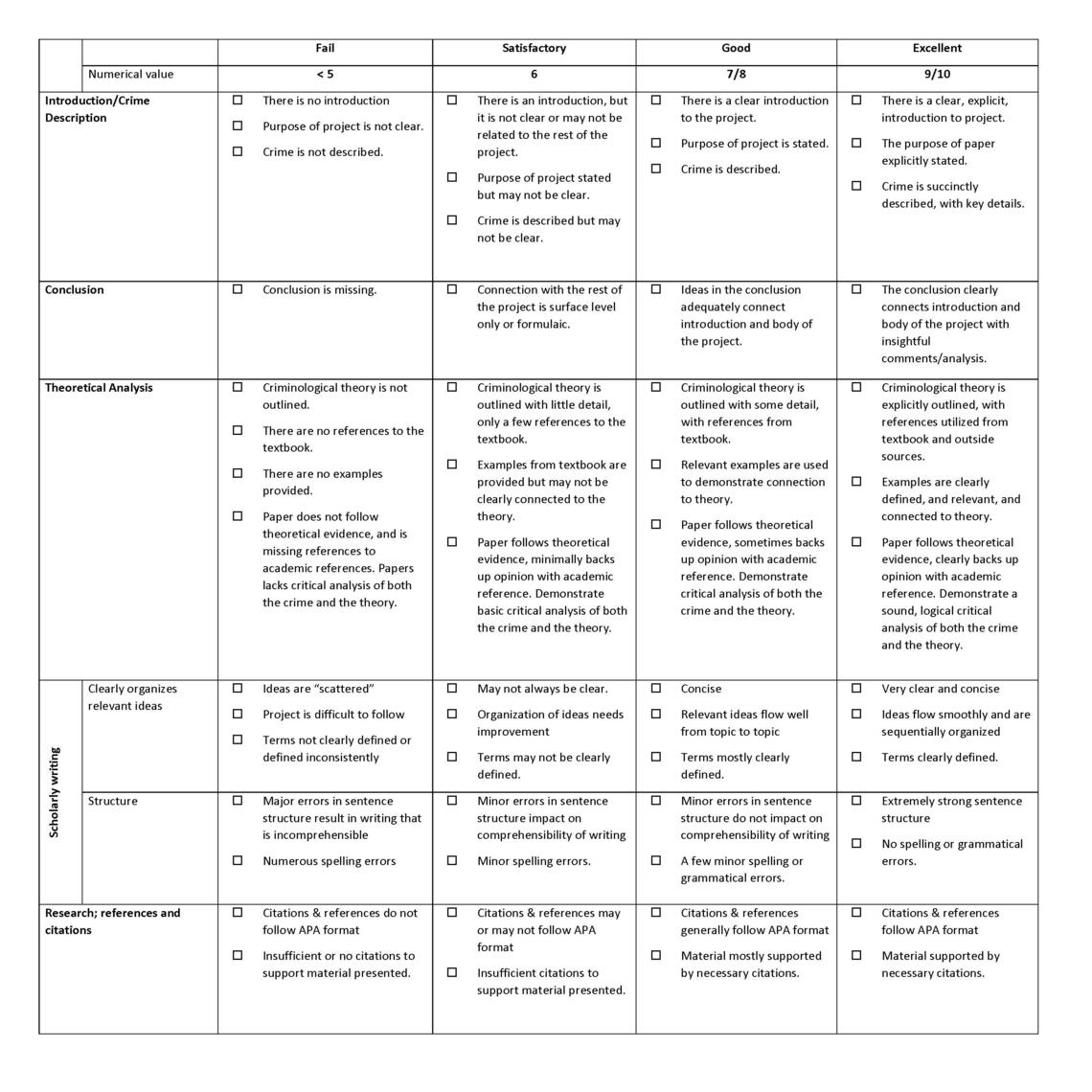 Holistic rubrics combine all of the criteria for assessment into one category and scores student work against that category. In this way, holistic rubrics assess student work as a whole artifact.
Holistic Rubric Example
Click on the image to view an accessible PDF version of this rubric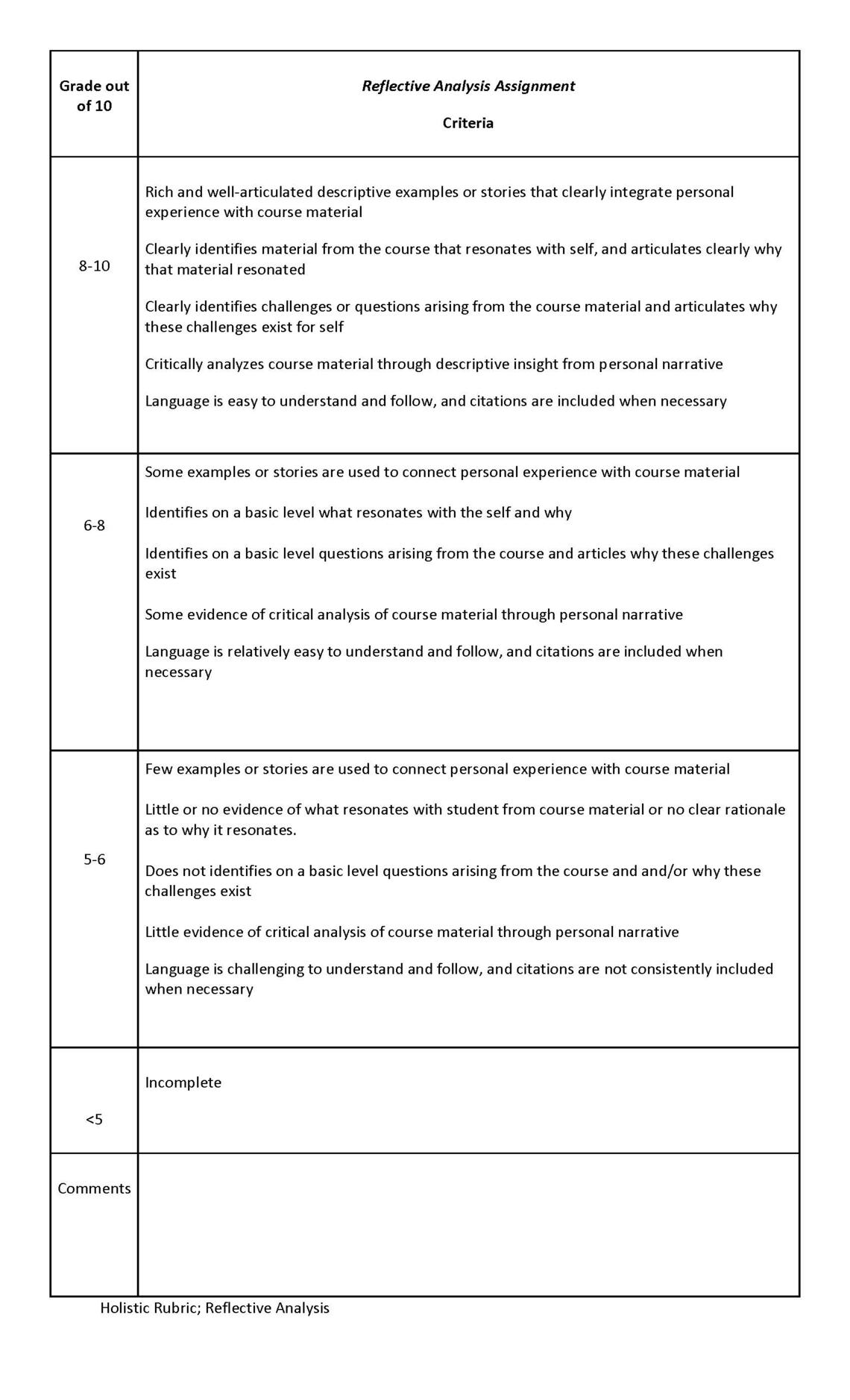 A checklist rubric may be used when there is not a continuum of quality, but rather a yes/no or complete/incomplete dichotomy within an assignment .For example, in the rubric below, appropriate protective clothing must be worn. Cylinders are either secured or not. There is no in-between here.. The nature of this assessment is that the criteria is achieved or not achieved, there is not a gradient of quality. Students are assessed on whether or not the steps have been followed or achieved.
Checklist Rubric Example
Click on the image to view an accessible PDF version of this rubric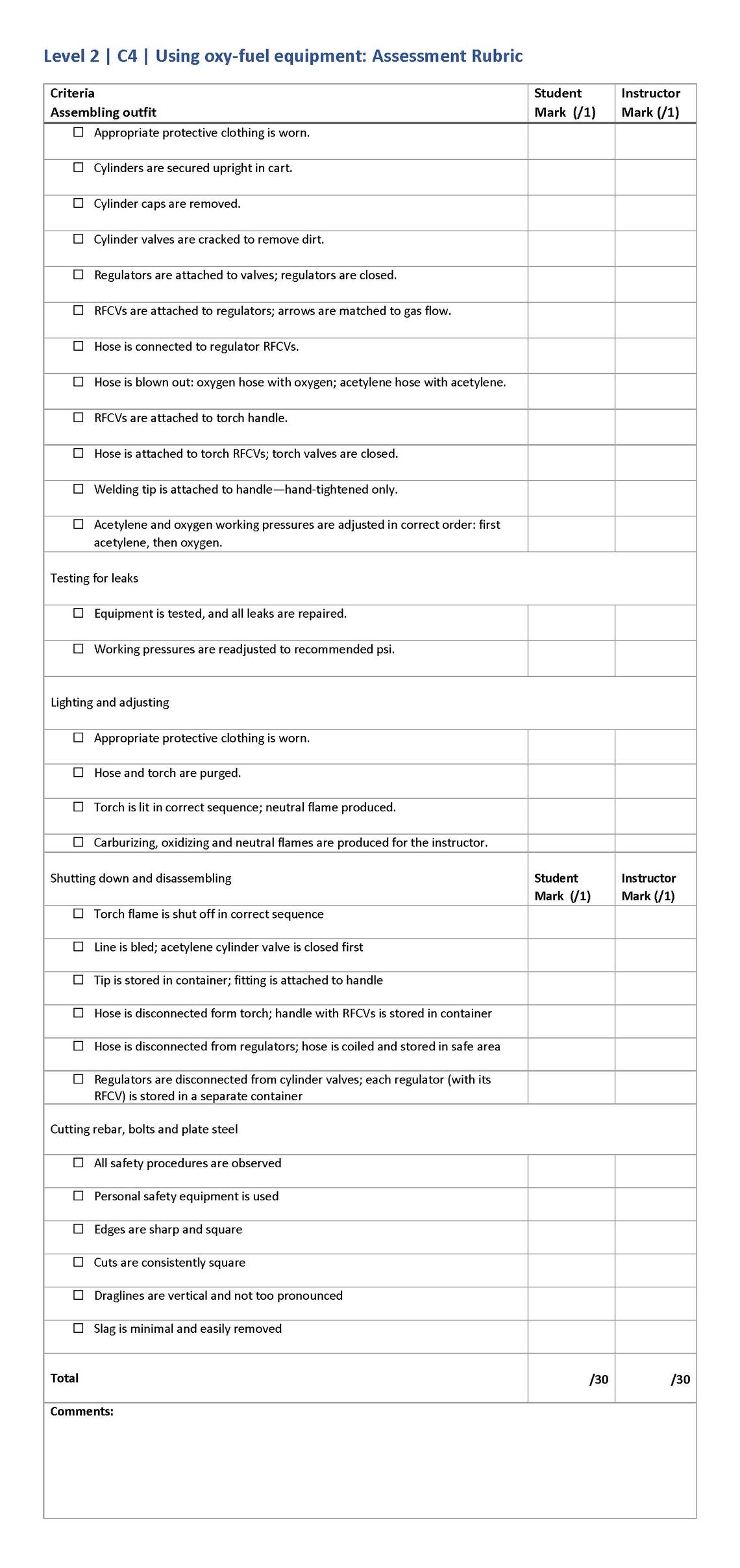 These are three examples of the most common types of rubrics, but any schematic that articulates criteria and is used to assess students in essence is a rubric.
Rubrics in VIULearn
VIULearn has a rubric tool that can be used to create analytic or holistic rubrics. Once created, these rubrics can be attached to an assignment and used to evaluate artifacts submitted online. More on how to create and use rubrics in VIULearn here.
Tip from a Curriculum Teaching and Learning Specialist
Rubrics used in VIULearn, however, cannot be used by students as a self assessment. To enable students to self-assess on an assignment using a digital rubric in VIULearn , an instructor's options include:
turning the rubric into a fillable PDF and uploading for students
turning the rubric into a word document and uploading for students to complete
Book a consultation about rubrics
CIEL specialists are available for consultations to discuss and support the design and development of rubrics. Please email learnsupport@viu.ca to set up a one-on-one meeting with one of our specialists.